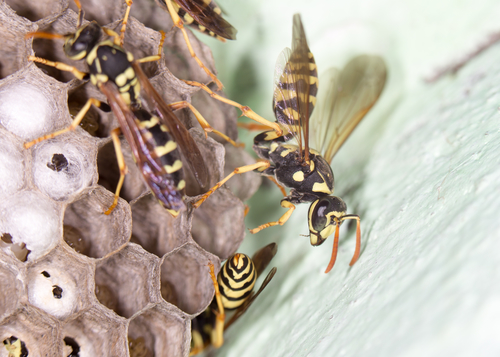 We all live busy lives.  Anything that can make life easier is something we want to know about, right?  Now that the weather is warmer, pests have become… well…  more PESTY.  Mosquitoes are biting, wasps are stinging, ants are crawling, termites are swarming…  ugh!  Holistic Pest Solutions offers affordable 6 month contracts for pest control maintenance in and around your home, but are there eco-friendly life hacks to keeping pest out of and away from your home, yard and family?  Are the life hacks easy and inexpensive?  Is this particular pest control company nice enough to give free advice?  The answer to ALL of those questions is YES.  We're here to help you with these great Eco Friendly Life Hacks.  Check em out:
START AT THE SOURCE
The best way to avoid pest problems is to start at the source.  Keep kitchen counters/sink/floors clean of food and odors that may attract bugs – wipe down with a 1 part vinegar/1 part water.
Fix leaky faucets – many pests are attracted by water.
Transfer your dried goods (cereals, chips, cookies, crackers) to sealed containers or jars.
Use a kitchen trashcan with a lid and rinse out any juice bottles or soda cans before throwing them away.
Don't keep compost piles near home and preferably contained.
Clean trash cans regularly. Best is trash pick up 2x per week, but missing a weekly pick up can create fly breeding site.
Landscaping and weed eating is important for removing pest harborage close to house.
THE NOSE KNOWS  
Many pests can be deterred by a scent that they have an aversion to.  For instance, research shows that peppermint is a scent that spiders, cockroaches and mice do not like.  Using a spray of peppermint oil and water anytime you see an issue may help.  If you have an issue with fruit flies, fill a disposable paper or plastic cup about halfway with vinegar. Add a small amount of dish soap and stir. Cover with plastic wrap. Using a sharp knife, poke very small holes in the top of the plastic. The fruit flies are very attracted to the vinegar smell and will find their way into the cup, but they won't be able to get out. Once you have a collection of dead fruit flies, toss the whole thing.  It has been said that Citronella, Catnip and Marigolds planted in gardens can deter certain insects and small animals with their smell(s).  Certainly worth a shot!
STOP SCRATCHING
Are you a magnet for mosquito bites? Are you concerned about being covered in red splotches, white goopy cortisone lotion or pink calamine lotion all summer?   Turns out, lemon and lime juice are acidic (and antibacterial) enough to numb the itch.  Rubbing a slice all over your bites really helps with the itch! Keep them on hand all summer (even more than usual for spritzing on fish tacos, margaritas, etc.)
AND NOW, TO POINT OUT THE OBVIOUS AND NUMBER ONE LIFE HACK FOR RIDDING YOUR HOME OF PESTS
We don't want to be presumptuous or anything, but Holistic Pest Solutions can help save you from needing the previously mentioned stinky, sticky, life hacks.  We offer 6 month contracts for controlling mosquitoes, ants, termites, wasps … whatever your issue might be.  This means you can essentially completely avoid pest in your home.  We'll perform a thorough inspection of your property to identify the contributing factors and then we'll treat for seasonal issues at the exact time they need treating in order to keep infestations from occurring.  Our highly trained technicians are trained to spot issues before they are noticeable to most homeowners and will implement long term solutions to keep your house pest free year round.  Why wait until the ants invade your kitchen or the termites eat away at your foundation?  Get in front of the problem!
If you need a really great Eco Friendly Pest Solution Life Hack, Holistic Pest Solutions is more than happy to oblige.  Our pest management covers roaches, ants, millipedes, centipedes, mice, rats, pillbugs, spiders, crickets, and paper wasps. Generally, we do every other month visits (monthly if needed) and the Maintenance Agreement sets you up for six services. If you need Termite treatment, our plan includes an initial treatment with an option to have an annual retreatment/inspection, if needed.  
CONTACT US to learn more about our maintenance plans for seasonal pest control issues or give us a call at 434 842 1700.  Whether you're in Charlottesville, Waynesboro, or close by to either, Holistic Pest Solutions has the perfect plan for you that is as Green As You Wanna Be!