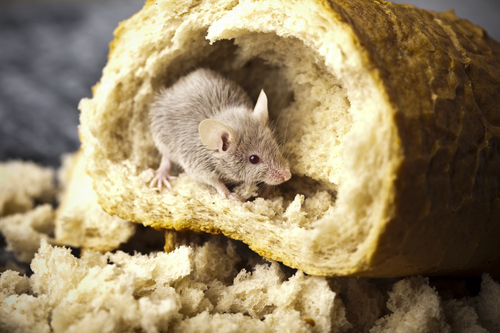 I know we've covered mice in blogs past, but did you know that a mouse is able to walk on a thin wire or squeeze itself into a hole no wider than a ball point pen? It doesn't take much of an opening for mice to enter your home.  Homeowners commonly believe that a couple of mice in the attic is no big deal, but consider this fact – one female mouse can give birth to 10 litters per year, each containing up to 6 mice.  One or two mice can multiply to 50 or 60, making it a very wise decision to take care of the issue at its first signs.  Even if you only have ONE mouse, that mouse can leave up to 9,000 droppings per year.
Because they carry and transmit viruses, bacteria and other diseases, mice are considered to be dangerous pests. They are commonly responsible for causing damage to personal property in your home and/or car and are also notorious for commercial crop destruction. Mice may also be responsible for machine and equipment malfunction – rodents love chewing through wires.  Within your home, food contamination may be less obvious and foods may be consumed unknowingly. The constant chewing of mice also causes damage to electrical wires, clothing, books and furniture. They destroy storage boxes, electrical lines and other materials while building their nests. Mouse populations can expand to include over 200 specimens in a matter of months.
SIGNS OF INFESTATION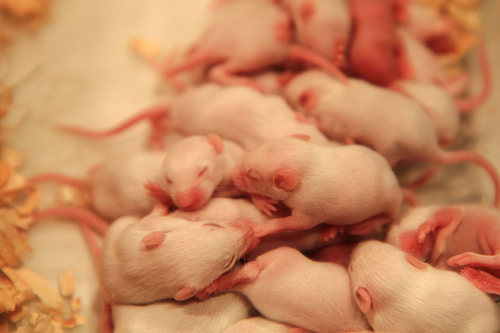 The presence of mouse droppings is an early and certain indication of an infestation. These dark, tiny feces are particularly dangerous and should not be handled without the use of gloves and a protective face mask. Mouse nests can be located within homes, and infestations become obvious when holes appear in walls and floorboards. Nesting areas may be found in drawers, shoe boxes, storage boxes, under cabinets and other areas that are seldom accessed. Mouse tracks are sometimes visible in dusty or muddy areas, and holes in walls confirm their presence as well as their nesting places. Homeowners experiencing infestations may hear noises at night and smell the mouse urine in areas with poor ventilation.
According to the Centers For Disease Control And Prevention (CDC), humans can contract Lymphocytic Choriomengitis from breathing in dust that that has been polluted with mouse droppings and urine. Hantavirus is also a threat associated with particular rodents such as deer mice.
If you can't find a way to successfully rid your home of mice on your own, give Holistic Pest Solutions a call 434 842 1700 for a free consultation.
Tags:
Mice Infestation
,
rodent control