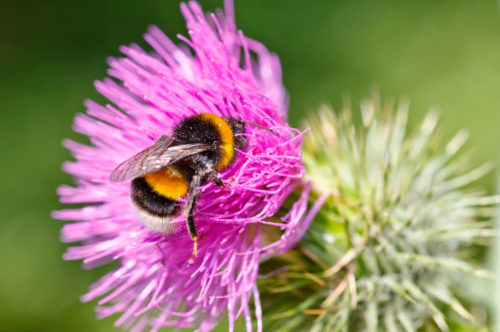 Since 1998, scientists, conservationists, and farmers have noticed an alarming trend – the honeybee populations are declining at rapid rates. Researchers believe several factors are at play here: viruses spread through the colonies, loss of habitat, migratory habits, and increased pesticide use.  A recent article on the washingtonpost.com site told of millions of honey bees "nuked" after South Carolina sprayed pesticides for Zika mosquitoes.  While the insecticide sprayed to kill mosquitoes in this South Carolina case was deemed by the Environmental Protection Agency as relatively harmless to humans, it completely devastated the honey bees.
THE IMPORTANCE OF BEES
Typically, according to the U.S. Department of Agriculture, these under-appreciated workers pollinate 80 percent of our flowering crops, which constitute one-third of everything we eat. Losing them could affect not only dietary staples such as apples, broccoli, strawberries, nuts, asparagus, blueberries and cucumbers, but may threaten our beef and dairy industries if alfalfa is not available for feed. One Cornell University study estimated that honeybees annually pollinate $14 billion worth of seeds and crops in the U.S. Essentially, if honeybees disappear, they could take most of our insect pollinated plants with them.
Bees are of inestimable value as agents of cross-pollination, and many plants are entirely dependent on particular kinds of bees for their reproduction (such as red clover, which is pollinated by the bumblebee, and many orchids). In many cases the use of insecticides for agricultural pest control has created the unwelcome side effect of killing the bees necessary for maintaining the crop. Such environmental stresses plus several species of parasitic mites devastated honeybee populations in the United States beginning in the 1980s, making it necessary for farmers to rent bees from keepers in order to get their crops pollinated and greatly affecting the pollination of plants in the wild. In recent years commercial honeybee hives have suffered from colony collapse disorder, which, for unknown reasons, left many bee boxes empty of bees after overwintering. Bee venom has also been found to have medicinal properties, used for treating arthritis, multiple sclerosis and even fibromyalgia, and more recently to treat sexual dysfunction, cancer, epilepsy and depression.
SAFER PEST CONTROL – BEE SMART
The need for safer pest control measures is apparent, but you might be wondering how to control pests without harming the bumble bees. If the bees themselves are pestering you, you can find local bee-keepers that will come in and remove the nests for you happily (Holistic has a list of Central Virginia bee-keepers).  If you have other pests that need controling, you'll want to know the CAUSE of your pest problem first and foremost.  Many times, pest can be controlled by removing the source that attracts them.  Then if you need treatment for existing pests, spraying may be necessary.  Some Pest Control companies (Holistic Pest Solutions included) base their treatment plans on implementing effective pest control methods that cause the least impact on the environment.  Carefully accessing the pest situation before treating is also very important, and a good pest control company will address the CAUSE before implementing a solution.
HUMAN AFFECT – BEE NICE
Humans' intense agricultural practices have greatly affected the pollination practices of bees within the U.S. The increased use of pesticides, the reduction in the number of wild colonies and the increased value of both bees and pollinated crops have all added to the importance of protecting bees from pesticides. Furthermore, many homeowners believe dandelions and clover are weeds, that lawns should be only grass to be mowed down regularly, and that everything but the grass should be highly treated with pesticides. This makes a hostile environment for bees, butterflies and other pollinators. Many bee poisoning problems could be prevented by better communication and cooperation among the grower, pesticide applicator and the beekeeper.
If you need bee-hive removal,  feel free to contact us for names of local bee-keepers.  If you have a pest problem that needs to be treated and want a company that uses the most eco-friendly treatments possible, contact Holistic Pest Solutions today!
Check out this slow-motion video of the bees with many interesting facts included
"Apis Mellifera: Honey Bee" an educational bee short! from Michael N Sutton / @MNS1974 on Vimeo.
Tags:
Bees
,
Eco Friendly Solutions
,
Holistic Pest Solutions